Input stream can read and interpret input from sequences of characters. More...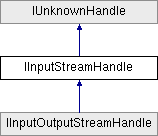 ◆ IInputStream_CreateFromBuffer()
Reads all data from buffer and stores them for later use.
This method does not reflect buffer updates after it has been called. Only current snapshot of the buffer state is stored in the stream.
◆ IInputStream_ToBuffer()
Reads all data from the input stream and returns them as a single large buffer.
This method is not recommended for large files, as the process might not have enough memory.
Examples:
◆ IInputStream_Release()
Decrement the internal reference counter.
When the internal counter reaches zero the object is deleted. Releasing already disposed object causes undefined behavior.
See also
Examples:
---
The documentation for this class was generated from the following file: